The study was conducted by the University of Cambridge and the consulting firm autonomy, among others
The 4-Day Week trial showed that working four days a week produced employee well-being and preserved production, despite taking the workday from 40 to 32 hours but maintaining the same salary. The 6-month trial ran from June to December 2022, having employers check the cost-benefit of a 4-day work week, without altering the remuneration for the work performed.
About 2,900 employees from 61 companies, including non-profit organizations and private contracting, software, and manufacturing companies were involved in the 4-Day Week Global plan in the United Kingdom. The trial involved two months of different types of workshops to prepare participants, based on the experiences of companies that had already tried a shorter work week, as well as consulting and research firms.
Some of the most exciting data found were a 71% reduction in burnout, a 65% reduction in absenteeism, and a 57% reduction in the risk of resignation.  Sixty per cent of the employees indicated that it is easier to combine paid work with work stay, and 62% stated that it is easier to combine work and social life; employees were also more satisfied with their home economics, relationships, and time management.
There was also evidence of decreased anxiety, fatigue, and sleep problems, while mental and physical health improved. Pre-test and post-test staff surveys revealed that 39% were less stressed, 40% slept better and 54% said they found it easier to combine work and home responsibilities. 
Strikingly, only 15% of employees said that no amount of money would induce them to accept a five-day schedule instead of the four-day week to which they are now accustomed. Meanwhile, 70% of the workers would accept the five-day scheme if their salary was increased by 10% to 50% and a small group of 8% indicated that they would require an increase of more than 50% to return to the previous mode.
Companies reported other positive data
The companies' revenues remained virtually unchanged during the trial period, even though only 23 of them provided financial data on their revenues, these showed that they had remained virtually unchanged throughout the six months of the trial, with an increase within 1.4%, however, the evaluations were carried out by company size, for all the organizations surveyed.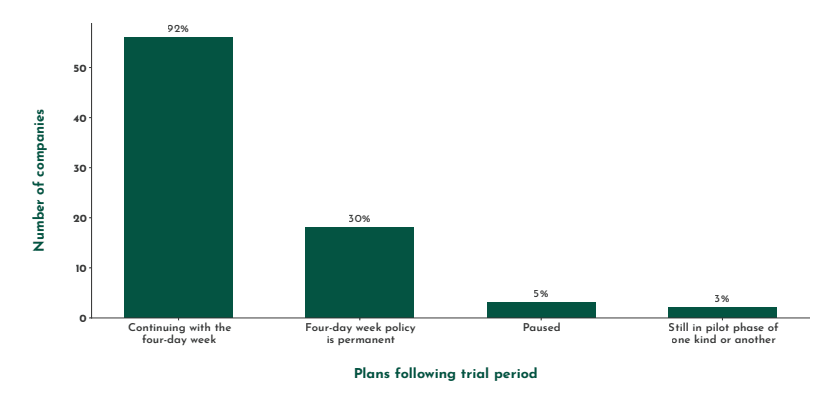 Still, compared to a similar period in previous years, organizations recorded an average increase in revenue of 35%, indicating healthy growth during this period of reduced working time, while also improving the issue of hiring.
This has led to 92% of the companies having approved to continue using this scheme, i.e. 56 of the 61 participants, 18 of which will adopt it permanently.
Trials in other parts of the world
Companies in the U.S. and Ireland have recently completed a small four-day pilot project run by 4 Day Week, and the results can be seen on their websites, while similar trials are being conducted in Australia, Brazil, South Africa, and elsewhere in Europe, and the consultancy says it will also release the results of these trials.
Consumer goods company Unilever, for example, recently tested the concept in 2020 at its New Zealand offices, Microsoft also did a trial in Japan, while the Spanish government plans to pay companies to experiment with a four-day week.
Also in Iceland in a study involving more than 2,500 employees from different sectors, researchers found that most workers maintained or improved their productivity and reported reduced stress.